"American Girl Live" and in Watertown
Actresses talk with Hosmer Elementary School students about their national stage tour
On Jan. 9, 2019, actresses Laila Drew, Ashley Diane, and Monica Poston from "American Girl Live" came to Hosmer Elementary School in Watertown. The actresses came to the Hosmer library and answered questions from about 120 first-, second-, and third-graders asked. Many Hosmer kids brought in their own American Girl dolls to the event.
"American Girl Live" is going to be performed in 47 different cities around the world. The show was in manchester, N.H., when the actresses visited Watertown. The show will be at the Boch Center Shubert Theatre in Boston Feb. 22-24.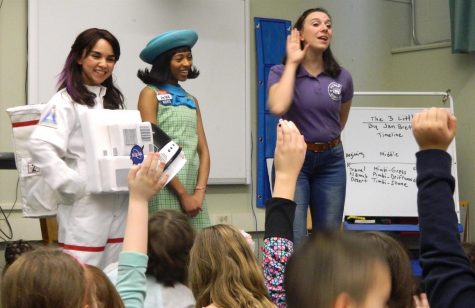 They rehearsed for about two months in New York City before they could travel around the country and perform. Ten people helped build the set.
In the show, their American Girl characters are great influences for young boys and girls. They talk about equal rights, standing up for yourself, and standing up to bullies.
The actresses came to the Hosmer in character. Laila Drew came dressed as Melody Ellison, who is working civil rights. Ashley Diane plays Luciana Vega, and came dressed in as an astronaut. Monica Poston plays camp counselor Alyssa Berman.
There eight cast members total — five American girls, one camp counselor, and two  swings (who play different parts). There are no boys in the cast or team, but "that doesn't mean boys can't act," said Monica.
Monica, who plays the camp counselor Alyssa, said she has acted since she was 4 years old. She said that the first play she watched that inspired her to be an actress was "Wicked". She said she had a few American girl dolls herself, and one of the main reasons she loves to act is "I love seeing kids smile!"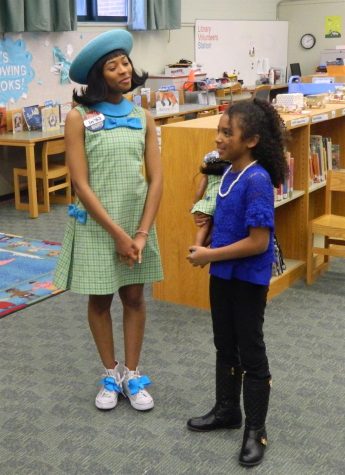 A Husky Howl reporter asked, "What is a suggestion you would give to young actors?" She said, "My biggest suggestion is to never give up and be yourself."
Melody, the 1963 American Girl doll, is based in the civil rights movement. She is strong and wants to encourage others to fight for what she is fighting for.
Then there was Luciana, the 2018 American Girl doll who had a dream of being an astronaut. She needs to work on her teamwork skills and needs to work very hard to accomplish her dreams. She is brave and wants to someday go to Mars.
This visit was motivational to young kids and was very cool to see. The kids really enjoyed this visit and asked lots of questions.
("American Girl Live " will be at the Shubert Theatre in Boston Feb. 22-24. For information or tickets, go to the website HERE.)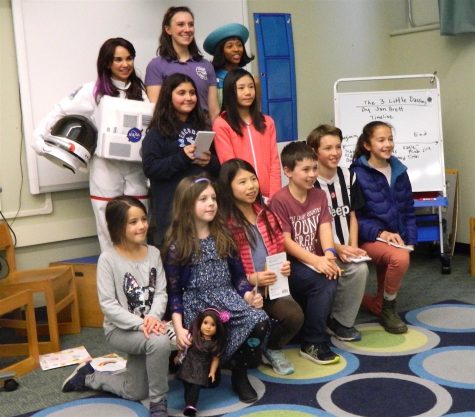 –Jan. 29, 2018–