The new Avenue Deli is five stars!
Watertown restaurant opens in School Street space formerly occupied by Strip T's
Sam Shea, Husky Howl staff
February 23, 2019
A new restaurant has opened up in Watertown at the former site of Strip T's. It is called the Avenue Deli. You can dine in or take out. The menu offers a wide selection from deli sandwiches, soups, salads and much more. I sat down with the owner Mike Richards to find out more about the deli.
He first opened a deli in Lexington Center, then he got the opportunity to open in Watertown. He decided to open in Watertown because, he said, it is a "fast-moving community" and it is "one of the hottest towns in Massachusetts." He also said Watertown has "diversity in its food."
When I asked if he liked the location in Watertown, he said that he loves it because it's "nestled in this great neighborhood where the people have really welcomed us."
Mike says he recommends almost anything on the menu. He says people can also get meat by the pound, bread, and rolls. They also have vegetarian options. He claims that the teachers from Hosmer Elementary School come in every Friday to buy lunch. He says that the restaurant offers free Wi-Fi, as well.
I have eaten two meals from the Avenue Deli and I loved both of them. I have gotten a burger and a meatball sub. The best part I the food was how the meatball and burger patty tasted homemade — and that's because they are! The burger came with lettuce and tomato with a side of fries, but I decided to get mine with cheese and bacon. I can say that the burger was so juicy! As for the meatball sub, it had the biggest meatballs ever. I got mine with provolone cheese and their famous pickle on the side.
The Avenue Deli is a great place to get a sandwich for lunch or a meal. I hope that you like it as much as I did.
(Avenue Deli, 93 School St., Watertown, Mass., 857-304-4667, www.avenuedeliwatertown.com.)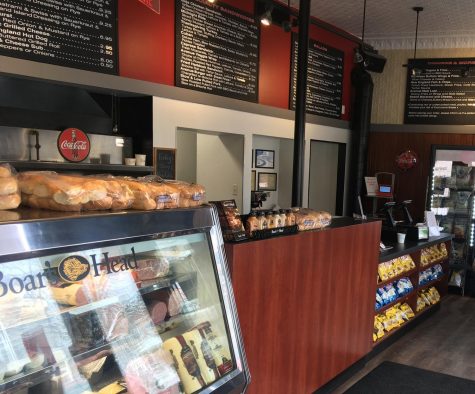 –Feb. 22, 2019–