Hosmer newspaper comes to life!
Husky Howl picked as name of new school newspaper at Hosmer Elementary in Watertown, Mass.
Hosmer Elementary School has made a newspaper for the first time.
There are 31 students on the newspaper staff at the Watertown, Mass., school. The students are from kindergarten through fifth grade and they meet every Tuesday in the Hosmer library after school as part of Courses for Kids. The first meeting was Jan. 8, 2019.
The reporters came up with 10 names for the newspaper and a vote was held. Nearly 400 votes were cast by students, parents, and teachers.
The winning name, with 101 votes, was the Husky Howl.
In second place was the Husky Times (61 votes), followed by the Husky News (56), Paw News (36), and Hosmer Globe (32). Also receiving votes were Hosmer Headliner, Hosmer School News, Hosmer World, The Hoot, and Hosmer Hour.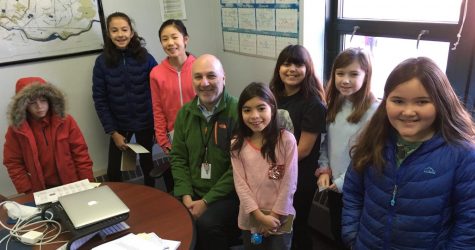 Robert LaRoche, the Hosmer principal, is excited about the new program.
"It is important to hear things from a student's point of view, rather than adults or teachers," he said in a morning interview with a group of reporters in his office Jan. 22.
(This story was reported and written by Husky Howl staff reporters Dara Fowler, Drew Ovoian, Jackson Wilson, Lola Adams, Maxime Adams, Rosa Pryor, Shriya Gupta, Keegan Gorham, Eli Barrozo, Kotaro Dorris, Naysa Bhoumick, Nirvaan Bhoumick, Aideen O'Mahony, Calvin Ovoian, Duncan Syer, Leila Tocchio, Lilya Hamdi, Noa Takahashi, Norah Whouley, Anastasia Ovchinnikov, Ava Puorishaag, Charlotte Dunklee, Daria Nagaraj, Darya Zamani, Isabel Gorham, Katie Chaikin, Gavin Foley, Harper Travers, Lenna Takahashi, Lily Finton, and Sam Shea.)
–Jan. 25, 2019–